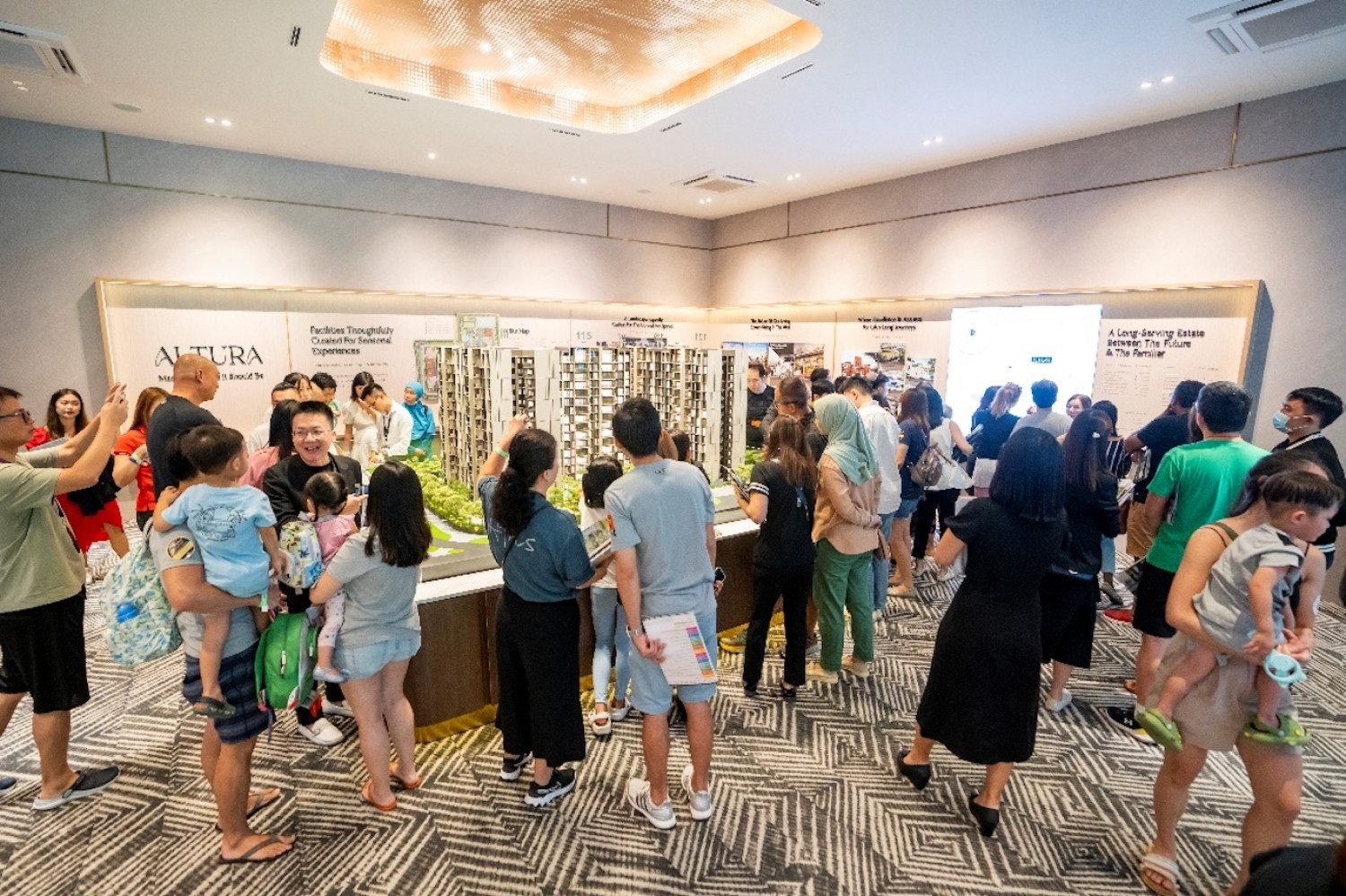 Crowd at Altura EC sales gallery (Photo: Qingjian Realty/Santarli Realty)
Joint developers Qingjian Realty and Santarli Realty announced that the 360-unit Altura executive condo (EC) at Bukit Batok West Avenue 8 had sold 220 units (61.1%) at the close of its launch day on August 5. The project is said to have achieved an average price of $1,433 psf.
"The project achieved an average pricing of $1,433 psf, a record launch price for new EC projects," says Ismail Gafoor, CEO of PropNex. "The new benchmark pricing tested the affordability threshold of buyers; although from the take-up at today's launch, it seems that the pricing for most units is well within the affordability of buyers."
By comparison, the 639-unit Copen Grand EC at Tengah Garden Walk, a joint venture project between City Developments and MCL Land, was launched last October and entirely sold in December 2022 at an average price of $1,334 psf. The 616-unit Tenet EC, also a joint venture between Qingjian and Santarli, was launched last December and 100% sold this July at an average price of $1,382 psf, based on caveats lodged.
Explore comprehensive data about all ECs, including the average profit at 5 and 10 years
"The robust demand for Altura was expected as it is possibly the only EC launch in 2023," says Marcus Chu, CEO of ERA Singapore. "Copen Grand EC, launched in Q4 2022, was fully sold within just one month."
According to Yen Chong, deputy general manager of Qingjian Realty, Altura is the first EC in Bukit Batok in over 20 years. The last EC launch in Bukit Batok was The Dew at Bukit Batok Street 21 in May 2001.
"We have significant pent-up demand from both first- and second-time homebuyers," says Chong. "Altura's strategic location adds to its appeal. It is within a 1km radius of ACS [Anglo-Chinese School] Primary, making it an attractive choice for families seeking proximity to reputable schools." ACS Primary will be moving from Barker Road to Tengah in 2030 and will be a co-ed school from then.

Artist's impression of the 360-unit Altura at Bukit Batok West Avenue 8 which achieved a record average price of $1,433 psf (Picture: Qingjian Realty/Santarli Realty)
Restrictions, but deferred payment scheme available
A hybrid product, ECs are designed by developers with finishings, fittings, and communal facilities like other private condos. "Many newlyweds and young families are drawn to ECs as they have the same look and feel of a private condominium but are designed specifically for owner-occupation," says ERA's Chu. "Investors are shut out from buying new launch ECs as these can only be sold to homebuyers that meet the eligibility criteria."
However, buyers of ECs are subject to HDB eligibility requirements in terms of household income ceiling, 30% mortgage servicing ratio (MSR) and a minimum occupation period (MOP). After a MOP of five years, the EC owner is restricted to selling only to Singapore citizens or Permanent Residents. Only after the 10th year of MOP can the EC be sold to foreigners like a typical 99-year leasehold private condo.
First-time buyers of ECs stand to enjoy "a huge upside" upon fulfilling their MOP of 10 years, says Mark Yip, CEO of Huttons Asia. A recent study by Huttons Data Analytics showed that the average gains upon MOP were more than $300,000.
Read also: Qingjian Realty to preview The Arden on July 29, prices from $1,688 psf
"ACS Primary's move to Tengah by 2030 is expected to give Altura a further boost in prices," says Yip.
The monthly household income ceiling for ECs is $16,000. New EC buyers cannot tap HDB housing loans but must borrow from banks to finance their purchases. Banks will use a medium-term interest rate of 4% to compute the loan amount to be extended to borrowers. "This could restrict the loan amount the buyer can secure and may require them to fork out more cash up front," PropNex's Gafoor points out.
However, EC buyers can take up the Deferred Payment Scheme (DPS), which gives buyers more flexibility and time to make their down payment. Gafoor notes that most buyers at Altura's launch opted for the DPS.

Overwhelming demand from second-timers with all 108 units alloted taken up within three hours on launch day (Photo: Qingjian Realty/Santarli Realty)
'Overwhelming' demand from second-timers
Under EC rules, only 30% of units can be allotted to second-timers and HDB upgraders at a new launch of an EC project. HDB considers second-timers to be those who have purchased an HDB in the resale market or Built-to-Order and have enjoyed a housing subsidy. The quota on second-timers will be lifted after 30 days.
Over 70% of the e-applications and ballot tickets received were from second-time applicants.
Demand was "overwhelming", according to PropNex's Gafoor, with all 108 units (30%) allotted to second-timers at Altura taken up within three hours – by 1pm on the first day of launch on August 5.
Second-timers who purchase ECs are given upfront remission on additional buyer's stamp duty, says Huttons' Yip. "HDB upgraders only need to sell their existing flat upon completion of Altura, which means they can continue to stay in them."
Read also: Qingjian and Santarli preview Altura executive condo from $1,376 psf
E-application period for second-timers will run from September 2 to 11, with sales booking scheduled on September 16.
When sales bookings for second-timers open 30 days from now, Gafoor says, "I'm certain Altura should be at least 90% sold."