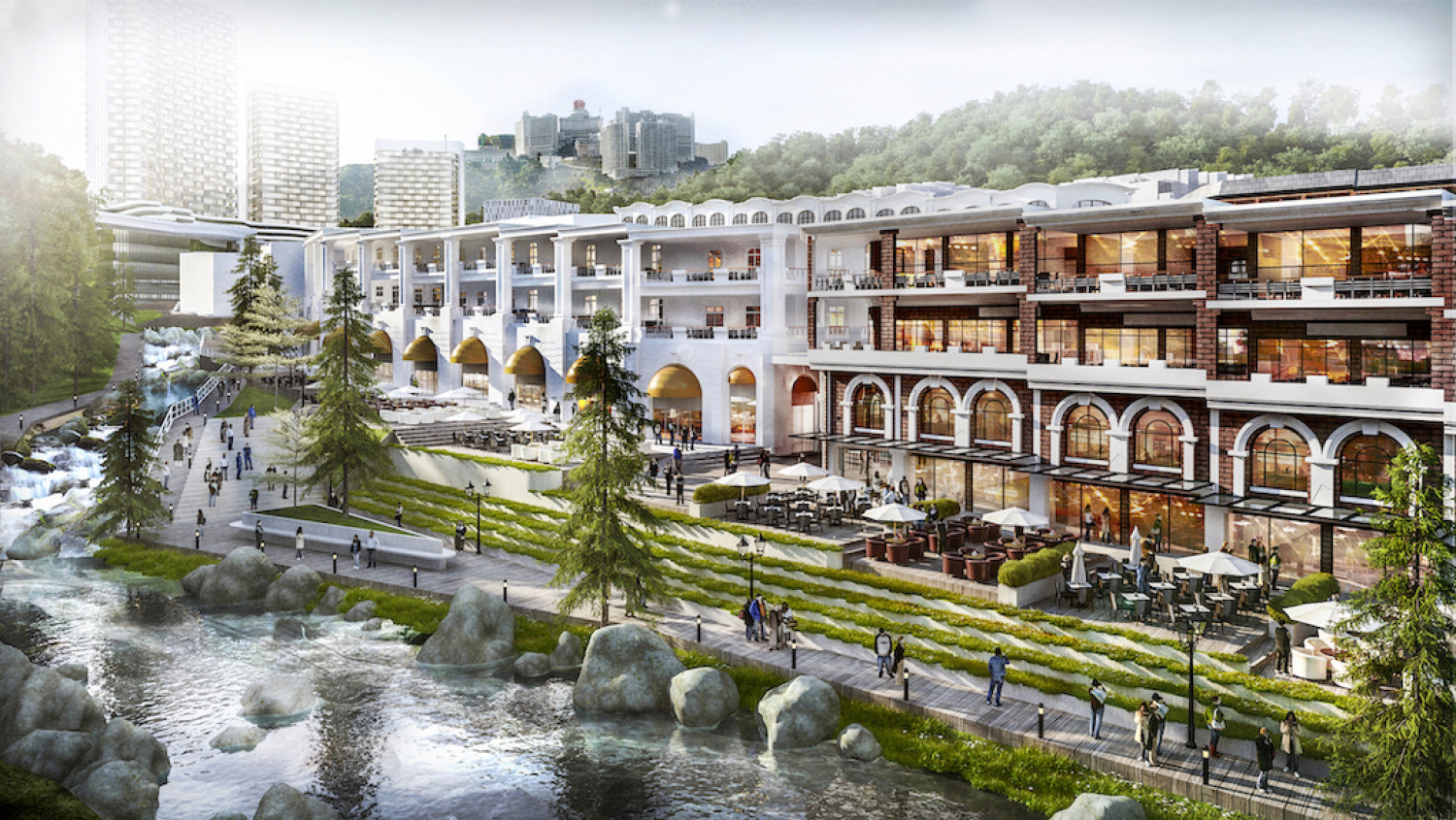 Malaysia's Genting Highlands is an hour's drive from Malaysia's capital city, Kuala Lumpur. Perched 1,865m above sea level, Genting Highlands features hotels, casinos, theme parks, shopping malls, restaurants and entertainment venues. According to Resorts World Genting, the number of visitors to Genting Highlands this year is expected to return to the pre-pandemic levels of 30 million annually.
About 5km from Genting Highlands is a new RM10 billion ($2.94 billion) resort development, Highlands Park City. The project sits on a 120-acre (48.6ha) site owned by the Association for the Promotion of Higher Education in Malaysia, a non-profit organisation. The developer of the project is the privately-held Highlands Park City.
The first development phase, King's Park, is developed by Highlands Park City and comprises 12 blocks with 360 strata-titled, three-storey shop lots for sale.

Executives of Highland Park City at the official launch of Singapore gallery at Suntec City Convention & Exhibition Centre (from left): Billy Lee, creative director; Lee Meng Tuck, business development director; Thanesh Jayandren, executive director; Jayandren Subramaniam, CEO; Francis Wong, director; and Steve Chan, director of sales and marketing (Photo: Samuel Isaac Chua/EdgeProp Singapore)
Each shop has an average size of about 1,733 sq ft. Units on the ground floor have a ceiling height of 6.5m, which allows the owner to build a mezzanine level. These shop lots have dual frontage: one side fronts a pedestrianised boulevard and riverbank, while the other has road access. Prices start from RM2,588,888 ($788,888), or $388 psf.
In Singapore, the King's Park sales gallery at Suntec Convention and Exhibition Centre was officially launched on May 13. Highlands Park City has leased the 2,000 sq ft space for three years at a monthly rental rate of $20,000.
Highlands Park City executive director Thanesh Jayandren says King's Park's pedestrianised streets will feature a "Truly Asia" themed experience with over 200,000 sq ft of retail space and LED light shows. "It will be the crown jewel of Highlands Park City," he adds.
A month ago, Accor Group announced it would have a Swissotel Genting Highlands flag in Highlands Park City. The project is a joint venture between Swissotel and Crown Estate Malaysia. It is part of Phase 2 of Highlands Park City, where the developer intends to announce another international hotel brand in the coming months.

Overview of King's Park at Highlands Park City (Picture: Highlands Park City)
'Strategically located'
Highlands Park City is "strategically located" next to Awana Genting Highlands Golf Course and Highlands International Boarding School, says Jayandren. It is also near other upcoming developments midway up Genting Highlands.
For instance, Pavilion Genting Highlands by Pavilion Group is nearby. It is a 230-acre, mixed-use development with high-rise condos and a "global retail village".
Another neighbouring development is Aset Kayamas' Antara Genting project, which will have 46-storey high-rise towers with 1,460 residential units when completed.
Tropicana Corp is developing Tropicana WindCity, a 112-acre, freehold mixed-use development featuring residential, commercial, education, wellness, recreation and "silver hair elements", according to its website.
The closest to the upcoming Highlands Park City is Genting Permai, which comprises Geo38 Residence, Geo Hotel & Resort and the upcoming residences, Geo Antharas by PH Leong, the landowner and major developer of Genting Permai.
OSK Property developed Windmill upon Hills, a serviced apartment project at Genting Permai, while Kerjaya Prospek developed the high-rise apartment project, Vista Residences @ Genting Highlands, in GohTong Jaya.
"All the big boys — Aset Kayamas, OSK, Tropicana and Pavilion — have projects near us," says Jayandren Subramaniam, CEO of Highlands Park City. "We are at the heart of the whole thing."

The Muslim retail hub (Picture: Highlands Park City)
'Limited supply of shops'
GohTong Jaya is a township established by Genting Group in the late 1960s. It has a row of over 60 shophouses with predominantly Chinese restaurants. These shops are also fully taken up, Subramaniam points out.
The Genting Highlands Premium Outlet is also nearby. Developed by Genting Simon — a joint venture between Genting Group's Genting Plantations and Simon Property Group, an American REIT that invests in shopping malls and is one of the biggest mall owners in the US — the Genting Highlands Premium Outlet opened in 2017.
The Premium Outlet has over 150 shops featuring premium labels like Coach, Hugo Boss and Ralph Lauren. There is also Adidas and brands like Disney, Marvel and Lego.
"There's a very limited supply of shops in Genting Highlands," says Subramaniam. Hence, he saw the opportunity to create a niche of retail offerings to cater to the 30 million visitors to Resorts World Genting. Subramaniam reckons the figure could cross 50 million visitors in five years.
Assuming a conservative estimate that 10% of visitors to Resorts World Genting would stop by for a meal or to shop at King's Park, that translates to three million to five million visitors a year. "We will have a captive audience of people stopping over while going up or coming down from Genting Highlands," he adds.
However, Subramaniam recognises the importance of curating the right mix of retail and F&B tenants. Therefore, he has hired an executive from Tesco to join the firm and head the leasing team.
"We will control the tenant mix rather than leave it to individual owners to find their tenants," says Subramaniam. "If an investor from Singapore were to purchase a unit, they could appoint us to lease and manage their shop lot on their behalf."

Artist's impression of the shop lots of King's Park that will front a pedestrianised riverfront walk (Picture: Highlands Park City)
'Clarke Quay vibe'
Lee Meng Tuck, business development director of Highlands Park City, says the retail, F&B and entertainment offerings at King's Park will be family-oriented. However, he believes the climate is ideal for evening activities by the river. Hence, the developer will rehabilitate the river and waterfalls around and within the development, and install lights to promote al fresco dining at King's Park.
"We are trying to bring the Clarke Quay vibe to King's Park, with a temperature of 20 degrees," says Lee.
According to Highlands Park City's brochure, the three-storey shop lots at King's Park could command a monthly rental rate of RM16,000. Based on the purchase price of RM2,588,888, that translates to a gross rental yield of about 7.4% per annum.
The shop lots of King's Park are targeted for completion sometime in 2H2026.
The second phase of Highlands Park City will be a mix of international hotel towers (including Swissotel Genting Highlands) and luxury villas, while the third phase will have two high-rise towers dedicated to wellness, says Lee.
King's Park also benefits from its proximity to attractions such as the Awana Genting Highlands Golf Court and an upcoming attraction featuring mountain bike trails.