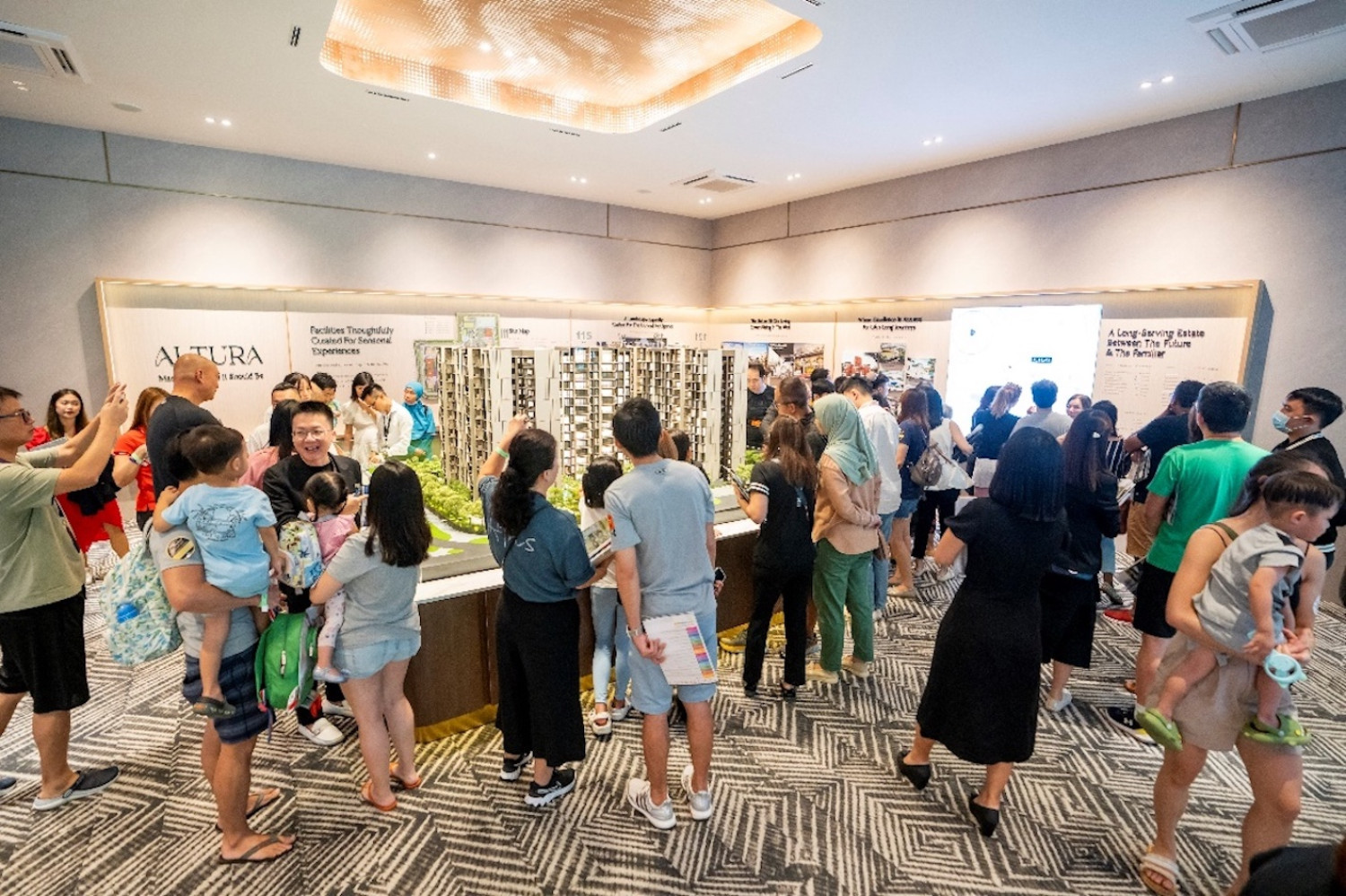 Crowd at Altura EC sales gallery. The development was the best-performing project in August (Photo: Qingjian Realty/Santarli Realty)
SINGAPORE (EDGEPROP) – According to data released by URA on Sept 15, developers sold 394 new homes excluding executive condos (ECs) in August – a 72.1% m-o-m plunge from the 1,412 units sold in July that marked a 20-month high. On a y-o-y basis, sales were down 10% compared to 438 new homes sold in August 2022.
The m-o-m drop in sales follows fewer new launches. "The stellar sales in July was always going to be a tough act to follow in August, which coincided with the start of the Hungry Ghost month – a period where market activity tends to slow due to fewer launches," remarks Wong Siew Ying, head of research and content at PropNex Realty.
Excluding ECs, four new projects were launched in August, comprising the 78-unit Orchard Sophia in the Core Central Region (CCR); the 324-unit TMW Maxwell in the Rest of Central Region (RCR); and the 306-unit The Lakegarden Residences and the 105-unit The Arden in the Outside Central Region (OCR).
Get the latest details on available units and prices for The LakeGarden Residences
The new projects were all launched in the first half of August, prior to the start of the lunar seventh month on Aug 16. A total of 590 new homes were launched, about 73% lower than the 2,156 units launched the month before.

The Lakegarden Residences was among four new private residential launches (excluding ECs) in August (Picture: Albert Chua/The Edge Singapore)
The performance of the new private launches was softer compared to July, with no project achieving a take-up higher than the 31% sold at Orchard Sophia with a median price of $2,808 psf, notes Tricia Song, CBRE head of research for Singapore and Southeast Asia. In comparison, new launches in July achieved take-up rates between 29% to 56%.
Leonard Tay, head of research at Knight Frank Singapore, attributes the lower sales to softened buyer sentiment. "Homebuyers have become increasingly reticent, taking the time to evaluate the selection of projects that have been launched in the past few months, as well as upcoming launches," he says.
Tay adds that with the escalation of interest rates in the last year and economic uncertainty, affordability has become an increasing concern among homebuyers. This, in turn, has continued to underpin strong demand for EC projects. The 360-unit Altura EC in Bukit Batok, which launched in August, was the best-performing project for the month with 225 units (63%) sold at a median price of $1,480 psf.
Excluding ECs, the OCR saw the highest number of new home sales at 192 units or 49% of total developer sales. OCR sales were bolstered by the new launches, with The Lakegarden Residences clocking in as the second best-performing project for the month after moving 73 units at a median price of $2,101 psf. Nonetheless, OCR sales in August were 61% lower m-o-m.
In the RCR, developers sold 106 new homes (27% of total sales), down 87% m-o-m. On the flipside, sales in the CCR rose 9% m-o-m to 96 units, supported by the launch of Orchard Sophia.
Read also: Four-bedder at Nassim Park Residences sold at $4 mil profit
In terms of buyer profile, PropNex's Wong notes that purchases by foreigners remained relatively low in August, with caveats showing just 12 new non-landed private homes bought by this cohort, representing 3% of total monthly sales.  Meanwhile, about 17% of the non-landed new private home sales were by Singapore PRs and about 80% by Singaporean buyers.
Proportion of non-landed new private home sales (ex. EC) by nationality by residential status over the past year
Sales to stay muted in September
With the August data, this brings cumulative new home sales in 2023 to 5,189 units, 5.6% lower than the 5,496 units sold over the same period in 2022. "We are of the view that the souring macro backdrop, elevated interest rate hikes and cooling measures have slowed demand, though this has become more prominent with the abundant new launches that have come through over July and August," notes CBRE's Song.
In 2022, developers launched 15 new private residential projects totalling 4,528 units for sale. In comparison, CBRE estimates that developers have already launched 17 projects totalling 6,773 new homes to date this year. Song believes that pent-up demand among homebuyers has been "mostly absorbed", while prices have increased significantly, leaving investors limited room for upside.
As such, property buyers are expected to take a longer time to shop around and evaluate choices before entering into a purchase. Against this backdrop, new home sales this month could stay muted, underpinned by the lunar seventh month that straddles both August and September, opines PropNex's Wong.
Nonetheless, transactions should pick up in October and November with some new projects potentially hitting the market, including Hillock Green in Lentor Central, and J'Den, a redevelopment of the former JCube in Jurong East, she adds.
Read also: Perfect Ten reaches new high of $3,670 psf

Source: Huttons Asia
Knight Frank's Tay predicts new home sales are still on track to hit between 7,000 to 8,000 units, which aligns with projections by Hutton Asia. "With up to ten new launches in the pipeline from October 2023, developer sales could end the year between 7,000 and 8,000 units, still higher than 2022's 7,099 units despite the economic uncertainties," says Lee Sze Teck, Huttons' senior director of data analytics.
Check out the latest listings for Altura, The Lakegarden Residences, Orchard Sophia, Tmw Maxwell, The Arden, Condominium properties