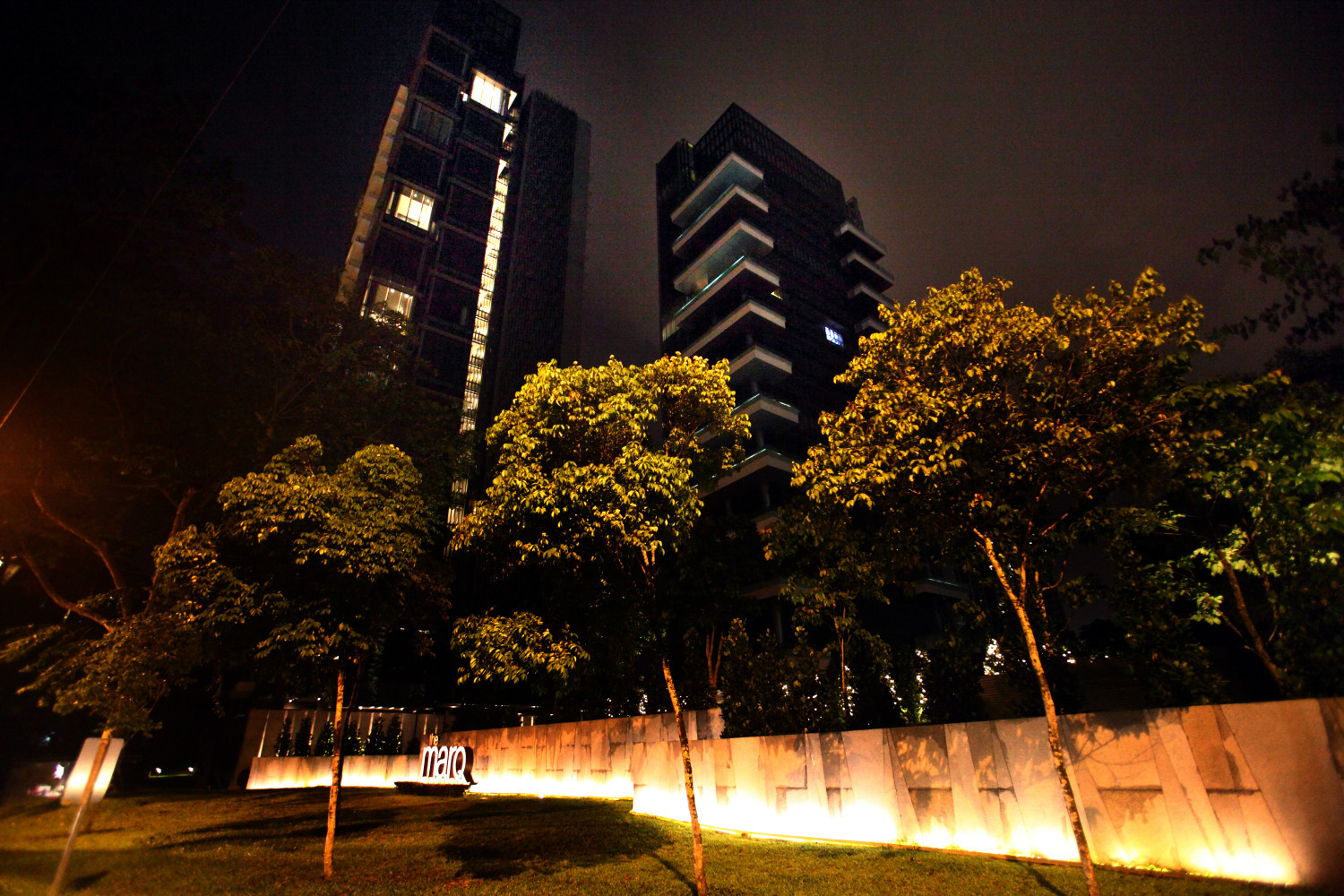 Night shot of the Marq at Paterson Hill
SINGAPORE (EDGEPROP): Prices for condos and apartments in the Core Central Region (CCR) have been under pressure from a confluence of factors. Based on transactions up till August 22 2023, the average ticket sizes for resale condos are down 20%, compared to April this year.
The average ticket size for August stood at $2.55 million, a significant drop from the $3.18 million average recorded in April, a decline of nearly 19.8%. Even the highest-quantum transaction in August so far, an $11 million condo at 3 Orchard-By-The-Park, pales in comparison to its forerunners: $18 million for a condo in Beverly Hill in July, $13 million unit at The Marq on Paterson Hill transacted in June, $18.8 million at Marina One in May, and $18 million for a condo unit at Sculptura Ardmore in April. Not only is the average ticket size shrinking, the price at the highest end is declining too, reflecting a reduced appetite for prime, high-end condos.

PSF prices in CCR have been declining since April: EdgeProp Market Trends
But the ticket size isn't the only metric in decline. On a per square foot (PSF) basis, the prices have also decreased by 11%. The current average PSF for resale CCR condos in August is $1,981, down from $2,227 PSF in April. On a month-over-month basis, the PSF rate dropped by 6% from July to August.
Read also: Seller of penthouse at Beverly Hill reaps $7 mil profit
Methodology for analysis
Before delving into the reasons behind this sharp decline, let us share the methodology applied. This analysis focuses solely on transactions in the secondary market, thereby excluding new launch transactions that could potentially skew the prices and be subjected to availability (whether there are new launches in that period). Simple averages were used for calculations. For the month of August, we analyzed the transactions that have been caveated up till Aug 21, 2023, and not the entire month. We believe trends observed will be similar even after we account for the entire month.
The perfect storm for CCR
So, what is driving this downturn? Three major factors stand out. First, the implementation of a 60% Additional Buyer's Stamp Duty (ABSD) on foreign buyers in May has impacted the market significantly. Foreign buyers often opt for prime locations such as Orchard Road, and these additional levies, which were announced on April 26, have certainly cooled their enthusiasm, contributing to a decline in prices since May. In fact, the number of foreign buyers has more than halved, from 112 buyers in April to a mere 36 in July.

Average prices of high-end condos in D9, sorted from highest to lowest: EdgeProp LandLens
Secondly, market sentiment has been influenced by a recent raid by the Singapore Police Force (SPF) on 10 foreign nationals involved in money-laundering activities. These individuals were found residing in high-end condos in prime areas like Leonie Hill Road, Paterson Hill, and Tomlinson Road. As this is an ongoing case, more arrests could potentially follow.
Lastly, the twin pressures of high interest rates and a strong Singapore dollar have created a challenging environment for foreign buyers, who typically prefer central locations.
Prices remain resilient in RCR and OCR, narrowing price gap to CCR condos
Interestingly, the price decrease in the CCR appears to be an isolated issue. Prices in the Rest of Central Region (RCR) and Outside Central Region (OCR) have not only been resilient but have also shown a considerable uptick. Average RCR prices have increased by 7.5% since January this year, moving from $1,725 PSF to $1,854 in August. Similarly, OCR prices have increased by 7.7%, from $1,374 PSF to $1,480 PSF over the same period.

The price gap between RCR and CCR is at its narrowest since the Global Financial Crisis in 2008: EdgeProp Market Trends
An important point to note is the significant narrowing of the price gap between RCR and CCR condos. The difference, which hasn't been this small since the end of 2008/early 2009 during the Lehman Financial Crisis, is now just $266 PSF on average. These dynamics present an array of opportunities and challenges for investors and prospective homeowners alike. While the CCR is currently a buyer's market, the rising prices in RCR and OCR suggest a more competitive landscape. Understanding the interplay of factors like foreign buyer taxes, local incidents, and broader economic indicators will be crucial for making informed decisions in this ever-evolving market.
Read also: OPINION: Residential rent growth to slow, marginal decline expected
Check out the latest listings for The Marq On Paterson Hill, 3 Orchard By-the-park, Beverly Hill, Marina One Residences properties