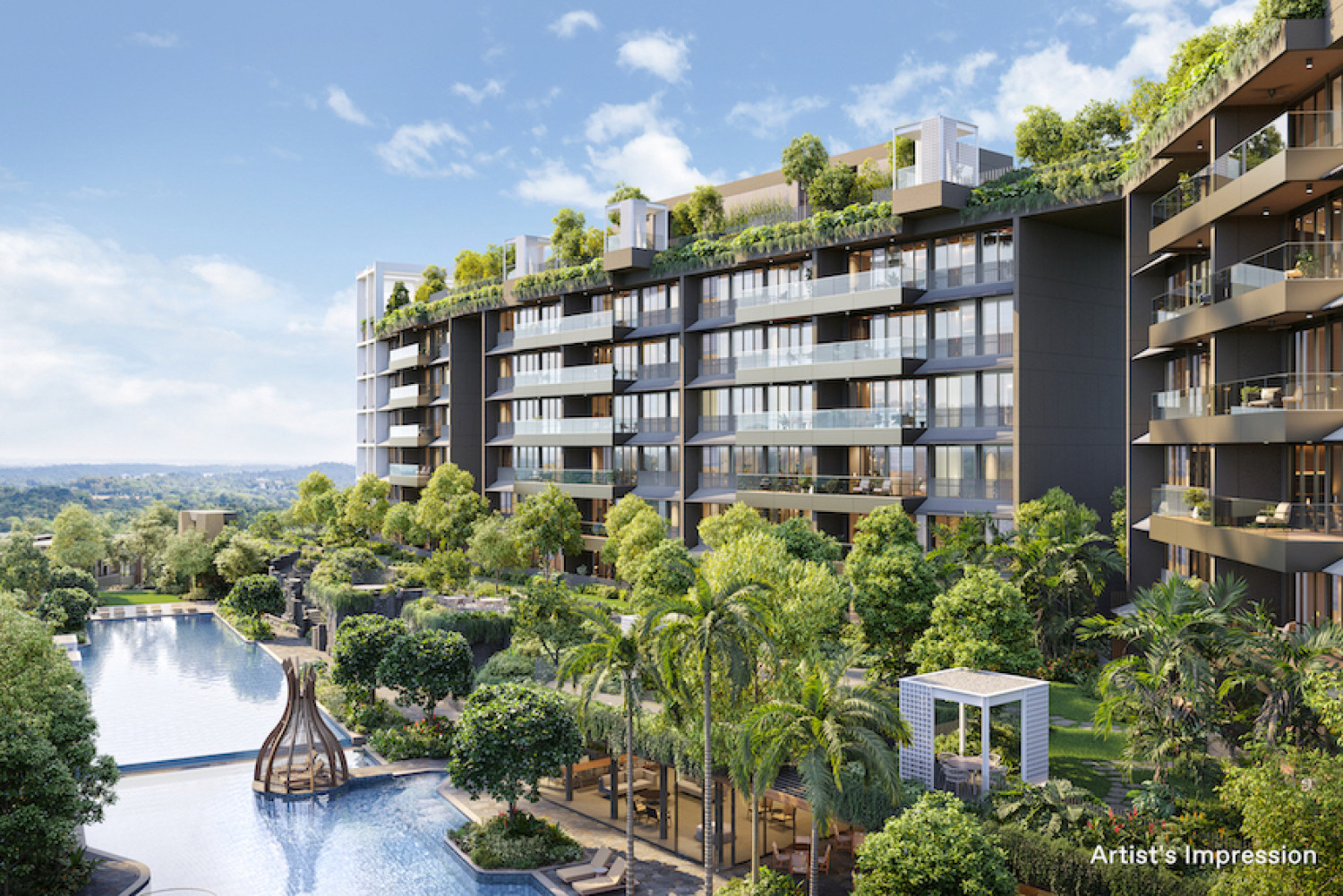 Artist's impression of The Reserve Residences, where 486 units have been sold at an average price of $2,450 psf (Photo: Samuel Isaac Chua/EdgeProp Singapore)
SINGAPORE (EDGEPROP) – Property giant Far East Organization and joint venture partner Sino Group announced they had sold 520 units at The Reserve Residences by 6pm on May 28, the close of the project's launch weekend. The developer released 635 units out of the total of 732 units in the project. The sales figure translates to 82% of units released and 71% of total units.
"Selling 82% of released units on the first weekend attests that thoughtful design, a strategic location, and the scarcity of integrated developments with a transport hub have made this project very attractive to homebuyers," says Shaw Lay See, COO of the sales & leasing group, Far East Organization. "We are confident our high floor units, sky terrace homes and penthouses with exceptional views will continue to delight homebuyers." The sales gallery was closed for sales balloting on May 27, but reopened on May 28, with more units on the higher floor released, adds Shaw.
In terms of the number of units sold, "it is the highest first-weekend sales since Normanton Park," says Mark Yip, CEO of Huttons Asia. In Jan 2021, Kingsford Development sold about 600 units of its 1,862-unit Normanton Park project on its launch weekend. The 1,862-unit development was entirely sold within 18 months of its launch.

Diagram of units sold (Source: Agents)
Prices at The Reserve Residences started from $2,225 psf and hit a high of $2,790 psf for a 1,765 sq ft, five-bedroom, sky-terraced apartment. Meanwhile, according to the developers in a media release, the average price achieved across all units sold was $2,460 psf.
About 99% of the buyers are Singaporeans and Permanent Residents, with three foreign buyers of US citizenship. Under the Free Trade Agreement, US citizens are subject to the same additional buyer's stamp duty (ABSD) as Singaporeans. Hence, they are not subjected to the 60% ABSD that foreigners now have to pay.
Regarding the profile of buyers, those aged between 31 to 40 years old constituted 41%, while those between 21 and 30 made up 22%.
The one-bedroom units at The Reserve Residences are fully sold, and all the two-bedroom units released have been taken up. "The strong demand for the one-bedroom and two-bedroom units indicates keen interest from investors," says Ismail Gafoor, CEO of PropNex. "Some purchasers could also be looking at potentially benefitting from the transformation and urban renewal of the Beauty World precinct."

All the one-bedroom units at The Reserve Residences have been sold (Photo: Samuel Isaac Chua/EdgeProp Singapore)
Huttons' Yip says he isn't surprised by the solid first-weekend sales achieved at The Reserve Residences. "It is the first and only integrated transport hub (ITH) development in Bukit Timah and District 21," he adds. "The fear of missing out on a good development is a decisive push for many, as long as they have sufficient cash on hand and bank mortgages are approved."
Apartment units at The Reserve Residences range from 441 to 495 sqft for a one-bedroom; 560 to 807 sq ft for a two-bedroom; 883 to 1,378 sq ft for a three-bedroom; 1,475 to 2,250 sq ft for four-bedroom apartments and duplex units; and 1,765 to 3,003 sq ft for five-bedroom apartments, duplex and penthouse units.
All units come equipped with smart home features, including a Smart Gateway and an e-Concierge as well as furnished with branded home appliances such as ovens, refrigerators, washers and dryers from SMEG.
Many of the units sold were below $2 million, according to Huttons' Yip. However, about 100 units sold were a mix of three- to five-bedroom units. He reckons these will likely be families who want a Bukit Timah address near Pei Hwa Presbyterian Primary School and Methodist Girls' School (Primary).
"The Reserve Residences is integrated with Bukit V, a sizable retail mall of more than 20,000 sqm (215,280 sq ft), with Cold Storage's CS Fresh supermarket as the confirmed anchor tenant," says Marcus Chu, CEO of APAC Realty and ERA Asia Pacific. "The development is amalgamated with the upcoming bus interchange, with direct access to Beauty World MRT Station."
Check out the latest listings near The Reserve Residences, Jalan Anak Bukit, Normanton Park, Pei Hwa Presbyterian Primary School, Methodist Girls' School (Primary), Beauty World MRT Station